---
---
If you haven't requested your FREE 4 Weeks of Preschool Curriculum yet, please fill out the form below. You can also learn more about our full curriculum below.
---
FUNDAMENTALS Preschool Curriculum is a developmentally appropriate, activity-based curriculum for children ages 3-5 that focuses on the FUNDAMENTAL skills children not only need to learn but are also excited to learn!
It is a done-for-you complete curriculum for a 9- to 10-month preschool program. We recommend that you have a 2-year rotating curriculum (Year 1 and Year 2) so you don't repeat activities with returning preschoolers. This curriculum is designed to last for an entire 2.5-hour class, but if your class is longer than that, you can stretch the activities. If you have a full-day program, we recommend you do this 2.5-hr. curriculum entirely in the morning between 9-11:30 a.m.
FOUNDATION OF OUR PRESCHOOL CURRICULUM
PHILOSOPHIES: We believe that children learn through developing 3 key skills: Life Science Skills, Life Skills, and Pre-K Skills.
GOALS: We aim to help children become well-rounded members of society who feel confident with their place in the world.
DEVELOPMENT: We strive to build children's social, emotional, cognitive, physical, and language skills through practical, real-world, hands-on activities.
LIFE SCIENCE SKILLS: Each weekly life science theme, such as Vehicles, Astronomy, Baking, or Ocean, offers fun activities to expand children's knowledge of the world so they can feel confident with their place in it.
LIFE SKILLS: Each day the children engage in a lesson with puppets or games, helping them practice vital life skills like Hygiene, Health, Sharing, Time and Safety.
PRE-K SKILLS: Each activity aims to teach children the critical Pre-K skills needed to succeed in school later on, such as learning to write, understanding simple math, and also knowing their letters, sounds, numbers, shapes and colors among other things.
INSIDE OUR CURRICULUM
Inside the FUNDAMENTALS Preschool Curriculum, you'll find 36 themes, organized into 26 A-Z themes and 10 holiday themes. Each theme has 3 days of lesson plans, perfect for a 2- or 3-day/week preschool program (For instance, you can use the lesson plans for Day 1 and 2 for your T_TH class, and you can use Days 1-3 for your M_W_F class.)
Inside each theme, you'll find the following materials:
Activity Outline
Enrichment Ideas
Days 1-3 Lesson Plans
A-Z Letter Pals
A-Z Letter Cards
Storytellers
Activity Outline
The first page of each weekly theme is the Activity Outline. We have illustrated how you can use the outline for your weekly planning with the graphic on the right. After reading through the lesson plans, write in what activities you'll be doing each day for easy reference while teaching. The NOTES section offers space to write down field trip plans or other fun activities for the week's lesson.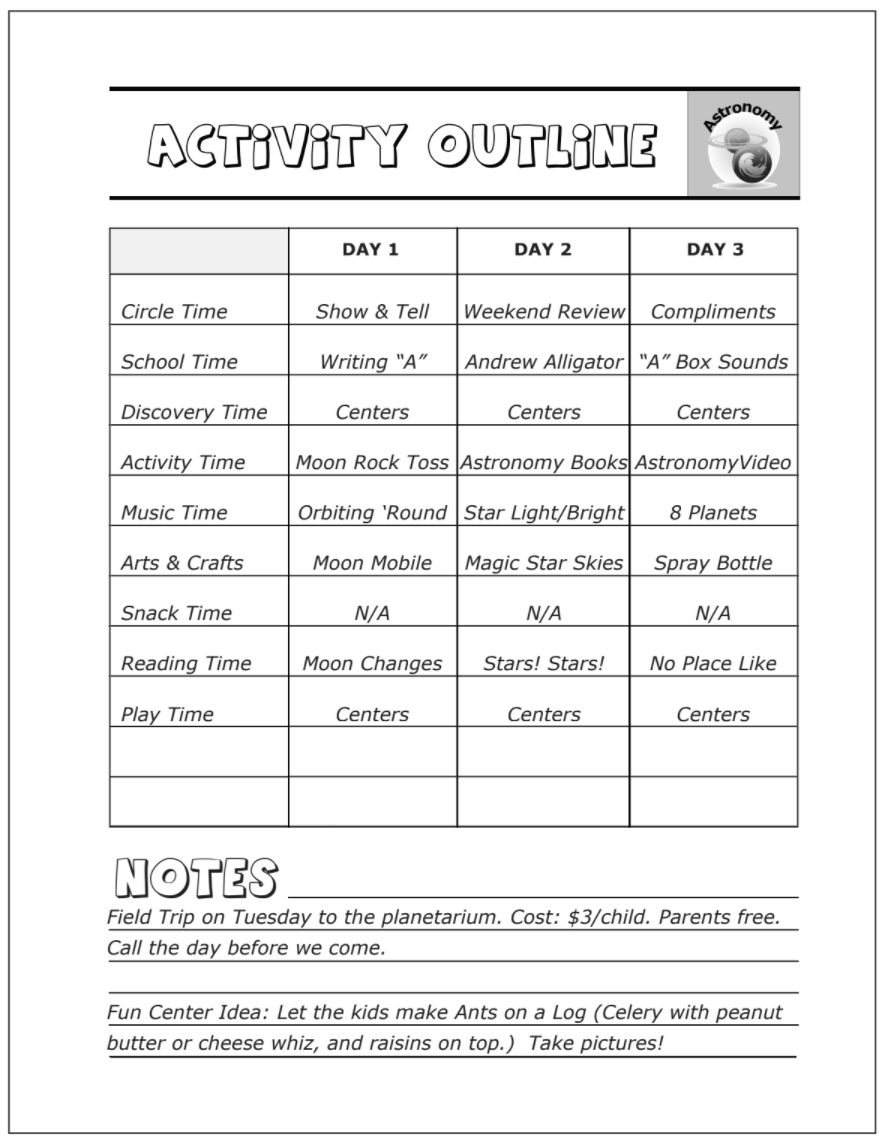 Enrichment Ideas
The next pages are the Weekly Enrichment Ideas sheets. On these, you'll find multiple snack ideas as well as a Talk Time section that gives you discussion questions to help expand your students' learning about the theme. You may even want to include the questions on the weekly newsletter so parents can continue the discussion at home. You will also find a Did You Know section that lists a few fun facts, as well as a field trip idea. The exploration video can be used if your students have a computer with Internet access in the classroom.
Lastly, you'll find various fine motor and gross motor activities that correspond with the theme. These are perfect for enriching your center time activities! You can also use the space to write down your own activities as you come across them as well.
Days 1-3 Lesson Plans
Our lesson plans are structured to accommodate a 2-3 hr. daily preschool class. However, they can easily be adapted to fit child care settings with the activities spread throughout the day. Feel free to adapt the curriculum to meet your program's needs.
Also, use the NOTES/SUPPLIES area to write down the supplies you need and any notes about things that went well or should be improved on for the next class. You'll find that the lesson plans follow a familiar format each day to help the children learn structure and consistency in a classroom setting, as well as learn FUNDAMENTAL skills, as seen here:
CIRCLE TIME: Helps children respect others, take turns, listen and tell stories. Pledge of Allegiance and weather chart help children learn repetition and prediction.
SCHOOL TIME: Helps children write letters, learn letter sounds, recognize the letters on signs, and understand that letters are used to communicate.
DISCOVERY TIME: Helps children sort manipulatives, count groupings, feel through sensory activities, and develop fine motor skills. ACTIVITY TIME: Helps children learn movement, rhythm, instruments, beats, and finger plays. Arts & Crafts help children cut, glue, write their name, learn shapes and colors, follow directions, work with art materials, and clean up.
SNACK TIME: Helps children learn how to use good manners, talk nicely to friends, help the teacher, and clean up.
READING TIME: Helps children "read" to each other, develop a love for favorite books, take care of books, and spend time independently. Life Skills help children learn how to eat healthy, safely cross the street, share toys, not talk to strangers, and more.
PLAY TIME: Helps children share toys, respect other people's property, treat others kindly, exercise, pretend, obey rules, and develop gross motor skills.
A-Z Letter Pals and Letter Cards
You'll find 26 alphabet letter pals with the corresponding letter card that will help your students learn each letter, its sound, and the proper way to write it with silly songs, letter chants, and fun animal characters!
Theme Storytellers
Each weekly theme has a storyteller page to help your preschoolers deepen their learning on the topic. You can keep all the storyteller pages and assemble them into an end-of-the-year portfolio journal for each student at their graduation. They make a great keepsake!
RECOMMENDED OUTLINE FOR OUR CURRICULUM
Below, you'll find a Recommended Outline where we've assembled all the 36 themes into 9 convenient units for you to use over a 9 month period. While you're certainly free to teach the curriculum in alphabetical order, we prefer to teach it out of order so students gain individual letter recognition, not just letter recognition within the alphabet sequence. We've also included a blank outline if you'd like to adjust the sequence of the themes to work better with your program.
* The (R) inside the letter column stands for Review during holiday themes.