So, you are starting a preschool, but what exactly does that mean? Do you tell a few friends with little ones that you will be teaching fun classes at your kitchen table and hope someone decides to pay you for your service? Will you be working 12-hour days, changing diapers, and serving breakfast, lunch, and dinner to a houseful of children every day?
No, not exactly. A preschool is not a daycare. In a preschool you only have your students for 2 ½ to 3-hour classes, either two, three, or five days a week. AND your students are all between the ages of 3 to 5—and completely potty trained before they start classes!
But beyond that, a preschool is a business. You should be setting up a preschool as a business and running your preschool as a business. To do that there is a very long, but very doable list of steps you need to take.
This article covers these 50 steps in detail. As you work through each of these steps keep all your notes, plans, and calculations in one notebook or binder for easy reference. Some of the steps will be completed at one time, some of them you will have to come back to while you are working through a later step, and some steps are ongoing and you need to continue working on them while you are working on the later steps. Most of these steps apply to home preschools, center-based preschools, and online preschools. The ones that are specific to one or more models are noted.
1. Define your target market
Your target market is parents who do not need full time day care. You will be targeting either stay at home parents or work at home parents. These parents value education and they want their child to have the best opportunity to succeed when they start kindergarten. Your preschool is exactly what they are looking for. As you go through these steps everything you do will be aimed toward this client.
Give your ideal client a name and a description. Which neighborhood do they live in? What kind of vehicle do they drive? Obviously, they have a preschool aged child, but how about the rest of their family? Are they married, single, other? What do they do for fun? What kinds of movies or TV shows do they enjoy? What kind of music do they listen to?
The idea behind creating this avatar is to know whom you are trying to reach when opening a preschool. The clearer picture you have of your ideal client, the easier and more effectively you will be able to market to them.
2. Discover your strengths
Make a list of why you will be able to create a wonderful preschool.
What motivates you?
What child-centered personality traits do you have?
How reliable are you?
What child-related experience do you have? (Think of all your child related experience from babysitting, to teaching Sunday School, to parenting your own children, to homeschooling…)
What skills do you have? (Consider skills that involve working with children, and business-related skills. Remember things like CPR/First Aid certifications, and proficiency in Microsoft Office.)
What connections do you have? (Who do you know who either has preschool aged children or has connections to parents with young children?)
After you look at your skills, experience, and qualifications, determine what you can do to strengthen or enhance your skills. You can gain knowledge in everything from child developmental milestones to small business bookkeeping by using Google and YouTube resources. There are online and community college certifications you can complete. If there is an area or two where you lack knowledge, commit to developing those skills. Focus on what you do have, not what you don't have. And work toward learning what you still need to know.
3. Design your dream preschool
Before you get into the meat of how to set up a preschool business, spend some time brainstorming what you would like your preschool to be like. This can be done in the form of a simple list or in the form of a formal business plan, but formal business plans are usually only necessary when applying for loans, looking for investors, or many years from now when you are ready to sell your preschool. At this stage a simple list will suffice.
Here are the things you should consider:
Location–Home Based, Center Based, or Virtual
Throughout this article we will note when a step is relevant for a specific location. It is a good idea as you are setting up a preschool to take the steps to also set up a virtual component to your preschool, even if you plan on doing only in person preschool classes. When Covid hit, many preschools closed their doors because they did not have the ability to transition to online classes
Number of classes you will teach each week
Monday, Wednesday, Friday and/or Tuesday, Thursday classes, morning classes and/or afternoon classes, evening classes, Saturday classes
Number of students in each class
This will largely be determined by licensing requirements, but for now decide how many students at a time you feel comfortable teaching.
Part of what's great about opening a preschool is the ability to make your own schedule. Look at your personal commitments, appointments, and your family's schedule, and choose class times that work for you. For example, 9:30-noon for a morning class and 1:00-3:30 for an afternoon class.
Ages of children you will teach
Typically, preschool classes are for children ages 3-5, but you may also want to teach after school classes for elementary school aged children.
The opening day of your preschool
This will be tentative, at this point, but set a goal for yourself of when you would like to open your preschool. The complete set up can, and has, been done in just 30 days so allow yourself at least that amount of time.
Name ideas, Motto ideas, and Logo ideas for your preschool
What would you like your school to be called? Think up some ideas for a motto. Make some rough sketches of some logo ideas. We will talk more about deciding on a niche for your preschool in another step so these ideas may change, but for now, write down some ideas.
4. Research preschool licensing
Licensing requirements vary from state to state. Some states will not allow you to start a preschool without a license, some states restrict the number of children you can teach without a license, some states require you to have a certain degree in order to qualify for a preschool license. Do some research into what your state requires.
To get started, Google "[name of your state] preschool licensing requirements." You may have better results searching for "daycare licensing requirements." Once you find your state's licensing department be sure to specify that you are starting a preschool NOT a day care. Tell them you will only have a [certain number of students] for [a certain number of hours] at a time.
This is a great resource to use to research if you need a license for preschool. If you do decide to get licensed, or if licensing is a requirement for your state, start the process now so you will have time to complete the inspections and other requirements. NOTE: You may also need approval from your HOA and a Special Use Permit for your city's planning and zoning department. This is a good time to investigate those, too.
Think of the money you will spend getting a preschool license as an investment into your new preschool business. Between the licensing application, health inspection, fire inspection, background check, and CPR/first aid certifications, you may have to spend around $450. But the increased income potential that a preschool license brings is well worth the investment.
5. Explore your competition to decide your pricing
If you have been running a daycare business, you have a good idea of daycare prices for your area, but daycare and preschool are two different things. You want to make sure to have competitive tuition rates. The best way to do this it is to compare the rates of other preschools.
Find several preschools in your area to call. Be sure that they are only preschools and not preschools within a day care program. You are looking for businesses that teach preschool classes just like you are planning to do.
Ask them the days and times of their classes, how many hours their classes are, and how many months their classes are in session. Ask what ages they teach and if children must be potty trained to attend their classes? Ask if they are licensed and how many students are in each class?
Ask if they have any openings, what are their tuition rates, and do they have a registration fee? Then ask them what is included in that rate? You need to determine if things like cool field trips, school supplies, school pictures, a graduation ceremony, etc. are included in their price, or if these things cost extra. And just to clarify, also ask them if there are any additional charges that parents must pay.
6. Niche down
Once you have the tuition rates of your competitors don't stop there. How can you make your preschool unique? Any preschool can spend a few hours teaching letters, numbers, colors, and shapes, but what can you add that will make your program stand out? Could you teach a bilingual class? A sign language class? A class that focuses on STEM, or art, or active movement?
The more niched down your preschool program is the more valuable it will be to your target market. What are you good at that you could incorporate into your classes? Or, who could you hire to teach a part of your classes? Maybe have a dance instructor come in once a week for hip hop lessons or join an online program that teaches your kids Spanish. Spend some time developing your unique selling point (USP).
As part of this step it is also a good idea to choose your teaching philosophy. In other words, how do you approach teaching? There are several popular methods:
Faith based
Play based
Reggio Emilia
Montessori
Waldorf
Project based
Some of these methods require you to be certified in order to use their name, but you could say you use Montessori-like methods. Research these methods and others and decide which methods you would like to use in your preschool.
7. Decide on your value add-ons
By having a niche preschool, you can raise your prices, and with value add-ons you can charge even more. Your USP offers something no other preschool is offering; value add-ons raise the perceived value of your preschool.
Value add-ons are things you add to your preschool that either do not cost you any money, or that you absorb the cost with the registration fee or the tuition rate. Here are some examples of things you can add to your preschool:
ABC Mouse (free educator's account for families to use)
Free field trips
Student t-shirt
Class parties for special occasions/holidays
Family events
School supplies
8. Determine your tuition rates and your registration fee
You've done a lot of research about your tuition rates, now it's time to put that information to use and calculate your own tuition rates. To do this, you need to figure out the HOURLY rate for each of the preschools you contacted. Use this hourly rate to figure out where your tuition rate should fall.
This formula will determine this range:
Number of weekly program days X Number of daily hours = Total weekly hours
Total weekly hours X Weeks in a month (4) = Total monthly hours
Total monthly rate / Total monthly hours = HOURLY RATE
Total monthly hours X HOURLY RATE = TUITION RANGE
This tuition range gives you a number to work with but remember also to factor in that your preschool has a USP and that you have some value add-ons. With this mind, you can set your first year's tuition rates slightly higher than the highest tuition rate in this range.
9. Name your preschool
Now for the fun part! What will you call your wonderful preschool program? So many choices! Here are some tips for choosing the perfect name:
The licensing requirements in some places prohibit using the word preschool (or school in general) in the name. In this case, you can use words like center, station, or corner, or just the name without the word preschool.
If you are teaching only virtual classes, include the words online or virtual in your name.
Gear your name toward your niche. If you are an arts-based preschool you could use the name of a famous painter (Picasso, Monet) or a composer (Beethoven, Mozart.) If you are STEM based use a word like rocket or tools.
If you are located in a rural area let your name reflect that with a word like barn, lake, forest.
Avoid names that are hard to spell.
10. Find a motto
Just as important as your name is your preschool's motto. Your name tells who you are, and your motto tells what you do. Make your motto fit your name. For example,
Rocket STEM Preschool "Where your child will soar!"
Butterflies Preschool "Exploring nature has never been more fun!"
Joyful Preschool "Your child will discover their own unique song."
Put some thought into your name and your motto. They both reflect what you are seeking to share with your students and with your community.
11. Search for DBA + domain name
The next six steps are all a bit intertwined, they each affect one or more of the other steps. Once you have an idea of what you would like to name your preschool, you need to determine if that name is available to use.
The first step is to search for a DBA (Doing Business As) by searching the website for your Secretary of State's office. Google "[name of state] secretary of state" and follow the instructions to check a DBA. If your first choice for your business name is not available, try tweaking it to make it work or choose your second choice and search for it.
After you have found an available DBA search for your domain name. Your domain name will be your website address and you search for it be going to a domain name registrar like GoDaddy.com. Enter your chosen, available preschool name into the search bar as one whole word and follow it with .com (e.g., butterfliespreschool.com) Don't register them, just yet; if both the DBA and the domain name are available you may have found a winner, but first…
12. Choose either a sole proprietorship or LLC
When starting a preschool business, you need to decide on a legal entity for your business. There are pros and cons to each that are beyond the scope of this article, but one significant difference is that an LLC (Limited Liability Company) gives you some legal protection in case your preschool is ever sued. Do some research and decide which entity you want to use.
13. Register your DBA
Go back to your state's secretary of state's website to register your DBA. You may have had a few hours or more to think about your business name and if you still like it as much as before, go ahead and register your DBA. This may require a small fee.
14. Set up your LLC
If you decide to register as an LLC, you can either do that at the same website or at your state's corporation commission website. If you cannot find the forms on either site, try calling one or the other to ask how to proceed. There will also be a fee to register as an LLC and it will take a few weeks before your business is officially registered.
15. Apply for an EIN
An EIN is the Employee Identification Number. When you file your taxes, you can just use your social security number on your tax form, but if you are planning to hire any employees you will need to have an EIN. Also, some parents may want to use the amount of their tuition as a childcare deduction on their taxes. In this case, you would need to give them a tuition statement which will either need to have your social security number or your EIN on it.
To apply for an EIN, go to the IRS website, and follow the instructions. It only takes a few minutes and there are no fees for an EIN.
16. Purchase domain name
Once all the legalities are taken care of, go ahead and register your domain name. Most likely the domain registrar website will try to upsell you on a whole lot of things. You don't really need any of them. You may want to go ahead and pay for the two year domain name registration, and if they offer a free trial of the website builder go ahead and accept that offer since you will need to build a website and you might as well take advantage of the free trial to see if that is the platform you want to use.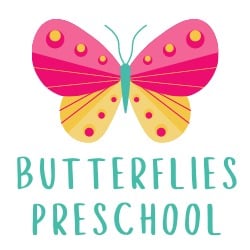 17. Design your logo
This step can be intimidating, especially if you do not consider yourself to be artistic but give it a try. You might be surprised what you can come up with. Use a graphic design app like Canva.com to design something yourself or you could hire someone on a site like Fiverr.com.
Before hiring someone, though, play around on Canva to get an idea of what you like, the colors you want to use, the fonts you like, etc. Having this information will save you time and money when working with a designer.
18. Finalize your preschool plan
Back in step number 3 you did some brainstorming about what you wanted to create with your preschool. Now it is time to finalize those plans. This is where you need to make definite decisions about all of these:
I will have a Home Preschool / Center Based Preschool / Virtual Preschool
Ages: _______ Class size _____ Staff to child ratio _____
# classes each week _____ # of hours my classes will be: ______
My class times will be:
Monday ______ Tuesday______ Wednesday______Thursday______ Friday______
Saturday______
19. Set your Opening Day
It is almost time to open your preschool business! Yes, there are quite a few steps you still need to complete, but most of them can be done quickly. It is now time to solidify your opening date.
Keep in mind any inspections and certifications you may be waiting on and plan your Opening Day 2-3 weeks out from the dates those are scheduled to be completed. Look at your personal calendar and block out quite a bit of time for the final two weeks so that you can finish up any outstanding projects, give tours of your preschool, hold the Meet & Greet for your families, and take care of any unexpected things that may have cropped up.
20. Curate your personal Facebook profile
You've come far on your preschool journey! It's time to start letting the world know what you are up to. Design a cover photo for your Facebook page with your logo and motto. Make sure your profile picture is a picture of your smiling face. Write about your preschool plans in your bio.
From this point on start telling your story on your Facebook Timeline. (You can use these same tips for Instagram and Twitter.) Take pictures of the things you are doing—a picture of your licensing certificate (cover your personal information), the cute puppets you purchased, your circle time wall, the pile of craft materials you purchased… People want to cheer you on. They are interested in your life. By sharing these kinds of posts, you will be advertising your new business without "selling" to your friends and family.
21. Choose curriculum
If you already know which curriculum you will be using, purchase it now. If you are unsure, continue your research you started in step 6. Set a date to have your final decision made by the end of the week and then purchase your curriculum. As soon as it arrives, take several hours or even an entire weekend to browse through it and jot down ideas, plans, and notes.
22. Make a supplies and materials list
If you already have a daycare business or have a young child of your own, you may already have a lot of what you need for your preschool business. Take inventory of what you already have and make a list of what your need to borrow, purchase, or have donated. This list may be very long, and you will probably keep adding to it for a very long time, but you don't need everything on it to begin. You can start with what you have, and grow from there.
Here are the basics:
Table and chairs (preferably child sized)
Shelves, baskets, boxes, and bins (for storage)
Paper (various kinds)
Pencils
Markers
Crayons
Scissors
Glue/glue sticks
Paint/paintbrushes
Books
Counting manipulatives (beads, coins, Legos, bottle caps, dried beans, dry pasta, etc.)
Recyclables (cardboard tubes, newspapers, magazines, gifts bags, tissue paper, empty food boxes and containers, paper bags, baby food jars, sandpaper, old socks, milk cartons, wrapping paper, fabric scraps, etc.)
Cleaning supplies
Snack supplies
If you are only doing online classes, you will need:
Computer (with Zoom and Google Drive accounts)
Webcam
A wall to use for your backdrop
Flashcards for letters, numbers, colors, and shapes
Supplies for crafts, experiments games, as needed
23. Gather supplies and materials
Start gathering all your supplies and materials. Set aside the things you already own, and clean them if necessary. Ask your friends and family for donations. Set up a wishlist on Amazon and share the link on your social media accounts. Look for a Buy Nothing Project Facebook group in your area to ask people for donations of things they no longer want or need. Check thrift stores and consignment shops. Shop at Dollar Tree, the 99 Cent Store, and Target's Dollar Spot.
24. Schedule classes in your calendar (schedule recordings, too)
You should already have your Opening Day scheduled on your calendar. Now schedule all your classes for the year. Schedule your final day of classes. Schedule the date of your graduation ceremony. Schedule all the school holidays. (Hint: Follow the calendar for your local school district.) Schedule class party days, Spirit Week days, field trip days, and family event days. If you plan on doing assessments and parent teacher conferences, schedule those as well. For virtual classes schedule recording days.
25. Decide on classroom layout
If you are doing virtual preschool classes, you will need a wall to use as a backdrop. You can decorate this wall with flashcards, a number line, the alphabet, posters, or just a plain colored backdrop. You will need enough space in front of this wall to safely and comfortably teach, including music and movement time. And you will need a place to safely set up your computer during class so that you can use the webcam to record your classes.
If you are teaching a local preschool you will need space for centers. For example:
Pick up/Drop off
Reading Center
Dramatic Play
Block
Sensory
Table Time
Manipulatives
Outdoor or a large open indoor space
Consider the space you have available for your home preschool or your center-based preschool. Work out the areas on paper before you start setting anything up. Consider which spaces can be shared.
26. Decide on your business phone number and business address
If you are doing local preschool you will need a business phone number to schedule tours and communicate with your parents via talk or text. You can use your personal phone for this, but if you do, change your voicemail message to reflect your professional business. If you haven't yet, take the time to organize your phone contacts so it will be easy to find a parent's number quickly. If you don't have a cell phone to use, you can use Google Voice to talk and text using your computer.
You also need to decide where you want your business to receive mail. If you have a center-based preschool you can probably receive mail at your location. If you are running a home-based preschool or an online preschool you can receive business mail at your home address, or you can get a Post Office Box.
If you choose a method other than what you have been using so far, be sure to change your address to reflect the new address, especially with your bank and any government entities.
27. Set up a business bank account
By now your business registration should be complete, but if it isn't, wait to complete this step until it is. Opening a business bank account is just like opening a personal bank account, but with different rules. Shop around for the best rates and lowest fees. You will need your ID, and your EIN or social security number. Some banks may also require your business license, your LLC articles of organization, and your DBA.
28. Set up payment system
In order to get paid, especially for an online preschool, you will need some kind of payment system. For a local preschool you could accept cash or checks, but that can get confusing, and you have to take the time to issue receipts.
Other options are Zelle and Venmo, but better options are Paypal or Stripe. Set up a recurring subscription and the payment will automatically be withdrawn from the parent's bank account each month. You can find many online tutorials to help you set up one of these payment systems.
29. Create your Facebook groups
For your online preschool, your private parent's preschool group is the way you will communicate with parents (unless you need to discuss something that is private.) You can include links to your recorded classes, announcements of upcoming projects, a supply list so students can participate in the activities at home, printable files so students can practice their handwriting and math skills, and anything else that is relevant for your class.
Your local class's Facebook group will contain much of the same information as it pertains to your student's, parents, and classroom activities, but you can also communicate with in person families in other ways. Your parent's Facebook group is a great place to share pictures of student activities in private space.
One great thing about Facebook groups is it gives you the ability to go live in the group to share urgent information such as in an emergency, or exciting information like the announcement of a new class, a new teacher, or a new location.
30. Design preschool business website
In order to tell people who you are and what you do, your preschool business needs a website. There are several options to design your own website and with the help of Google searches and YouTube videos you can probably work through most issues.
Or, you can hire someone to design your website. Keep in mind though, that in addition to being pricey, this process can take some time. Also, if you want to make any changes to your site in the future you will need to work with the designer again unless you learn how to make the changes yourself. At least try to do it yourself for a few days before you hire someone.
Some choices for website design are:
You will to include everything a parent needs to know to make an informed decision about you and your classes including a bio about yourself and/or your preschool teacher, your teaching philosophy, your vision for your school, a sample schedule, your class schedule (only include for a local preschool website), your location, and your tuition rates including any registration fees, and what is included in the tuition price.
Be sure to include a banner with your preschool logo, a smiling professional looking picture of yourself and any other staff members, pictures of your classroom setup, and if possible pictures of smiling children, either your own or other children you know (with permission from their parents), or stock photos.
For an online only class, you will direct your social media ads to your website and your website will lead to the online registration form. For in person classes your website is another way for parents to learn about you and why your preschool is the perfect place for their child.
For online preschools your registration button will lead to a registration form that you can design in Google Drive. Your registration form will lead to your payment website (from section 28), and your payment site will lead to a parent portal (see next section.)
31. Set up parent portal
This step is ONLY for virtual preschool. Your parent portal is the site your parents go to after they make their first payment. This portal should have written or video instructions on how to set up their Zoom account for their child's classes, how to manage their payment account, and a button that will lead them to your Facebook parent's group.
32. Set up your business email
To look professional your preschool business needs a custom email address, something like [email protected]. You can get an email address like this through some website builders. You can also get a custom business email through Google Workspace. This is a subscription service that, in addition to the customized email, provides many other tools that will benefit your business.
33. Design and print business cards, letterhead, and advertising flyers
Use Canva to design and print business cards, business letterhead, and the flyers you will need to advertise your business. You can also design these items in Canva and have them printed locally. Shop around for the best price. Before having your flyers printed, be certain of your Opening Date.
34. Purchase liability insurance
You will be working with children in your preschool business, a liability insurance policy is a necessity. Injuries happen. A liability insurance policy will pay the cost of any of those accidents and injuries.
If you have a home preschool you can add a rider to your homeowner's insurance policy, or you can purchase a separate liability policy. If you own your own preschool building you can purchase a stand-alone policy. If you are leasing a building, or perhaps just a room at a church or community center, you will most likely be required to carry your own liability insurance policy.
A good resource to find liability insurance policy, contact Farm Bureau. They will find several policies that will meet your needs and you will be able to compare the policies to choose the best one that will work for your situation.
35. Create your Google My Business page
There are several ways to market your preschool business and a Google My Business listing is one of them. Follow the instructions to set one up for your new business. Fill in as many items on the listing as you can. If you have a home preschool it is not necessary to make your address public but do add it so that you will show up for searches for "preschool + [name of your city.]" After your listing is approved add pictures to it periodically just like you do with your social media accounts.
36. Create your Facebook Business page
The same instructions apply for the Facebook Business page. It is one more tool to use when marketing your business. Set it up to look professional and then incorporate it upkeep into your regular schedule to attract more clients.
37. Set up Google Drive account
This step is only for online preschools. You will need a Google Drive account to store the videos you will send out to your students. You can start with a free account and add a paid account later as your business grows, but if you signed up for Google Workspace in step 32 then you already have some of the benefits of the paid subscription.
38. Finalize curation of your personal Facebook profile
You have your website completed, you have your Facebook business page built, and you know your opening date. It is time to finalize the curation of your personal Facebook profile. Create a professional looking banner using your logo and the words "I teach preschool so your child can…" then list three reasons why. Keep this list short because you don't have much space.
Somewhere on the banner, add a brightly colored box that says something like "Click here to register." Then, link the banner to the caption for your cover photo that talks about your preschool and contains a link to your preschool website.
39. Ask for Facebook and Google reviews
Both your Facebook business page and your Google My Business allows customers to leave reviews. If you currently have daycare clients, ask them to leave you a review on these two platforms. If you've ever volunteered with children as a scout leader, a team mom, a Sunday school teacher, etc., ask those parents to leave you a review. If you have not previously worked in the daycare or preschool arena, ask friends and family to leave you reviews that highlight your character.
40. Set up Zoom account
Online only: You will use either Zoom or Google Meet to deliver recorded lessons to your students and/or to teach live virtual classes. Set up your account and then watch some tutorials on how to use it to record videos and have live classes. If you pay for the upgraded versions of either program you can store your videos on the platform. If you choose to store them on Google Drive instead, learn how to properly save them and deliver them to your families.
41. Set up preschool classroom/preschool wall
In step 25 you did some work on figuring out how to set up your classroom. For a virtual class only, you will only need to set up a wall to use for the backdrop of your classes. You will also need to experiment to check the lighting and the placement of your webcam, and a place to put your props and materials.
For an in-person preschool hopefully you have worked out a plan on paper by now. Be sure you have considered all the centers you will need. Once you have a plan on paper start setting it all up. [NOTE: Be sure to take pictures for your social media accounts!]
42. Design your forms
You need a way to keep track of information and to communicate information to your preschool families. To do this effectively you will need several forms. You may be able to find samples online, but you may also want to consult a lawyer to ensure you cover everything while also protecting you legally. These are the forms you will need.
Registration Form
Photo/Video Permission Form
Child Release Form
Emergency Permission Form
Waiver and Release of Liability Form
You will also need a monthly calendar, a snack calendar, and a monthly newsletter to give to your parents.
For an online preschool, you can use a digital calendar, and you need to get basic information on the registration form and also a photo/video permission form.
43. Market your preschool
You are so close to starting your preschool! It is time to start marketing your preschool and filling up your preschool classes. In addition to the traditional ways of advertising, flyers on doors, postcards in the mail, Craigslist ads… Here is a list of other marketing ideas you can try:
Hopefully you have been sharing about your preschool journey on your personal profile. This is a good way to get organic traffic. Ask your family and friends to share your posts about your preschool with their family and friends, especially families with little ones. You can also run paid ads on Facebook, Instagram, Twitter, etc. Watch tutorials on how to use this method effectively.
Register your preschool on Care.com and/or other childcare directories.
Have a t-shirt made with your logo and the words "I Teach Preschool!" Wear it in public, especially when you will be around families with small children.
Pass out your business card to anyone who may show interest in your classes. Leave them in drawings at local businesses.
Make a bumper sticker or a magnet for your car with your logo and your business phone number.
Host an Open House in your preschool room. Pass out flyers and hang signs in your neighborhood.
Get a vendor table at community events. Hang a large banner with your name and logo in front of the table. Have some children's activities or craft projects for the children to do. Hand out business cards, pens, lanyards, pop sockets, water bottles, or other branded merchandise. Collect leads and schedule tours.
Offer referral credits to your friends and family, and new preschool families whenever anyone refers someone, and that person signs up for your preschool classes.
For an online preschool, add a box to your cover photo that says: 1 Week Free Trial!
44. Register students
After all that marketing, your phone should start ringing. When it does, schedule a tour with prospective families to come take a look at your preschool. Or, in the case of an online preschool the families can register for a free one-week trial of your classes.
If you have done your marketing well, all that is left at this point, is to sign them up. If they and their child are a good fit for your preschool and you have an opening that fits their schedule, you should have no problem registering enough students to fill your classes.
45. Send out Meet & Greet invitations
One to two weeks before your classes start, host a Meet & Greet to meet all the parents, have them meet each other, and go over the policies and procedures for a successful school year. You will tell the parents about this gathering when they register their child, but you also need to send out postcard invitations at least a couple of weeks before this event.
46. Set up preschool management software
Preschool management software can help you keep track of all those records that need to be kept: attendance, billing, payment receipts, progress reports, illness and injuries, and on and on… A good preschool management software will provide a place for all this and more! Brightwheel and HiMama are two options to check out. Set up the basics and then add children as they register.
47. Write your Policies and Procedures Handbook
Your preschool business needs some rules and guidelines on everything from snack time to pick up and drop off procedures. Your parents need to know how things are done in your preschool. Think through all these policies and give a copy of this handbook to every parent. Also, discuss these policies and procedures as part of your tour and at the Meet & Greet with all the parents present.
What to include:
About Page for your preschool
Bio for your director and your teachers if you have them
Class schedules
School closures for holidays or illness
Special events and field trips
Enrollment and withdrawal procedures
Tuition and registration fee, other fees
Tips for preparing their child for preschool success
Pick up and Drop off procedures
Curriculum information
Sample schedule
Sickness policy
Toileting procedures
Sanitation and Safety
Disciplinary procedures
Parent involvement, responsibilities, and communication
48. Prepare for first week's lessons
Hopefully by now you have spent some time studying your curriculum and have some ideas for how you plan to present the lessons. If you have classes Monday through Friday, you will need to prepare at least two lessons and some review activities for the Friday class or prepare three lessons.
Spend some time preparing for the first week's lessons so you know what you will be teaching, where you will be teaching each part, and how you will be teaching. Gather your supplies, make any copies, prep any crafts, and make sure that everything is in place prior to your very first class.
NOTE: If you have more than one class, be sure to plan for every class and have enough supplies and materials on hand for all your students.
49. Hold Meet & Greet
We already talked about the Meet & Greet in step 45. If you do not have a preschool teacher, hire a trusted friend to come and spend time with the children during the Meet & Greet. Have a simple lesson, craft, or experiment planned for them to do.
Practice what you will say during this event and be sure to cover everything in the Policies and Procedures Handbook. Find ways to make the material interesting. Maybe have a scavenger hunt with prizes. Or a pop quiz at the end where you throw candy across the room to parents who get the right answer. The more fun you make it, the more your parents will remember about what you expect for the school year.
50. Start Classes
The big day has arrived! Enjoy your students! You are now past starting a preschool, you are actually running one!