Sensory play is an engaging and highly beneficial activity for young children. It gives them a fun way to build their fine motor skills while learning through play and exploration. Sensory play is also a great time to be social and work on problem solving skills. Most preschool classrooms have a sensory table, but the sensory center does not end there! Here are some tips on how to set up your sensory preschool center and to integrate sensory play into the rest of your classroom.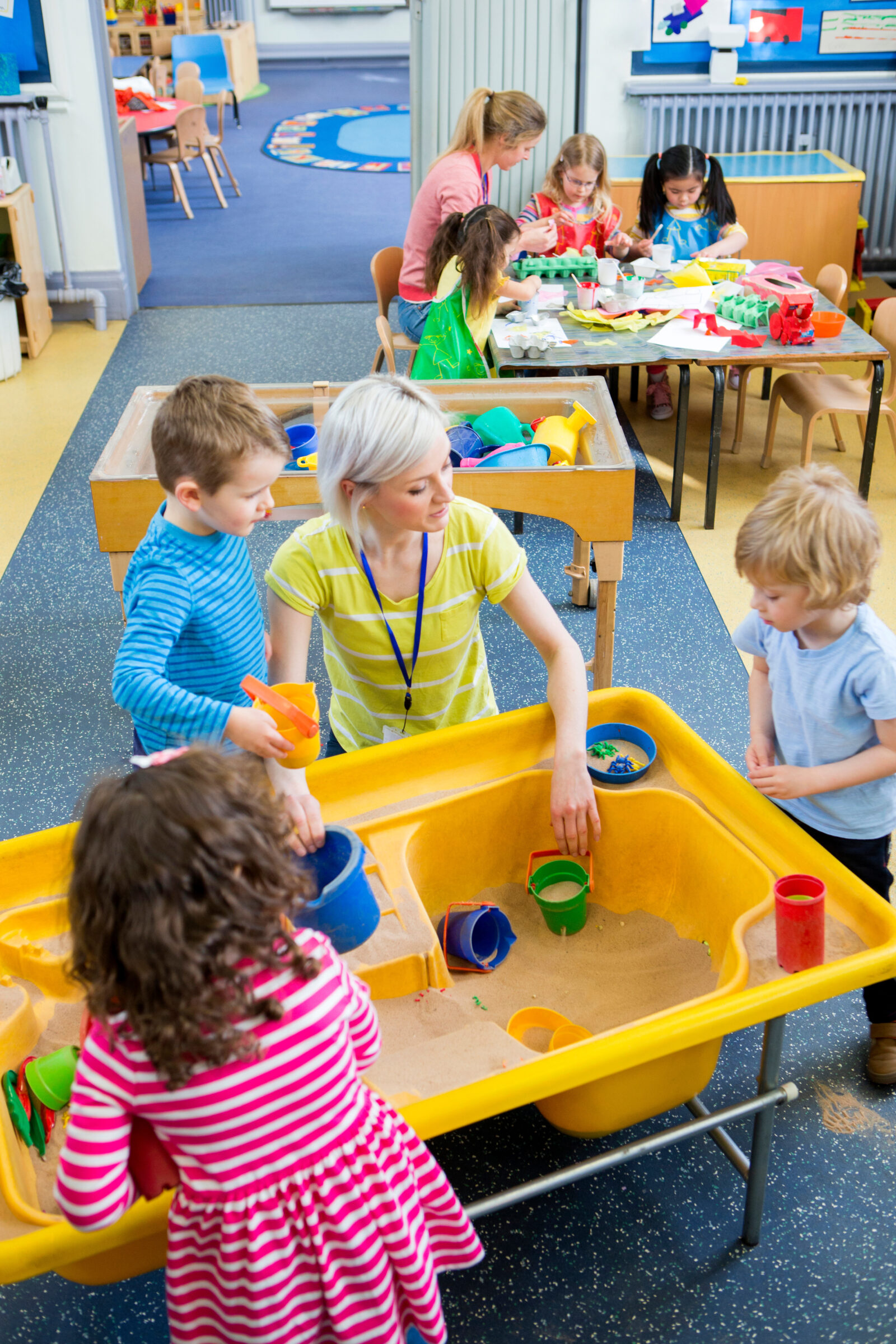 1. FINDING THE RIGHT SPACE
The sensory center is a big part of any preschool classroom, and depending on how you set it up, can take up a large space. However, all of your classroom sensory items do not necessarily need to be kept to a single area of the classroom. Integrating your sensory materials throughout the classroom helps to save space and is very beneficial to your preschoolers.
When considering where in your classroom would be the best place for a sensory center, keep in mind that sensory play often equates to a mess. Avoid carpeted areas and allow for a nice open space that is easy to clean.
2. THE SENSORY TABLE
Every preschool classroom should have a sensory table. It is the cornerstone of any high quality preschool sensory center. It stimulates the brain and strengthens sensory processing systems, and does it all through hands-on play! The sensory table is extremely versatile because there are hundreds of different sensory materials that you can put in it. Then on top of that, you can completely change how each sensory material is played with by switching up the sensory tools and accessories that you include!
3. OTHER MATERIALS TO INCLUDE
As fun and beneficial as the sensory table is, it is not the entirety of your preschool sensory center. The more variety that you build into the sensory center the more your preschoolers will be able to engage in this center, because not all children are interested or willing to participate in all types of sensory play. This is especially true if you have any preschoolers with a sensory avoiding tendency. Here is a list of some fun sensory materials to include in your preschool sensory center and throughout your classroom.
Light table
Sensory mats
Slime, putty, clay, playdough
Rainbow pegboard
Fidget spinners
Sit n' spin
A swing
Mirrors
Rainbow blocks
Touch 'n feel books
4. SENSORY ACTIVITIES
Add another level of play to the open-ended play in the sensory center by providing daily invitations to play. These activities should also be open-ended and child-led, but it will provide even more variety for your preschoolers' sensory play. For these invitations to play, all you have to do is set out the materials that you want your preschoolers to explore in an inviting way. Here are some examples.
Water, droppers, and water colors
Clay, pipe cleaners, googly eyes, rocks
Frozen colored rice, sea shells, sea animals
Ice play
Construction paper, glue, tissue paper
5. KEEP IT CLEAN AND ORGANIZED
Every play center in your preschool classroom should be kept in an organized manner. This will make it easier for your preschoolers to be more independent in caring for the materials in the sensory center. It is also especially important to keep the sensory center clean. Since the sensory center uses a variety of sensory items, including food items, you should be sure to thoroughly clean it daily. The last thing you want is to attract pests to your preschool classroom.
How you set up your sensory preschool center is all about offering your preschoolers a wide variety of easily accessible sensory based play experiences. These experiences will foster development of their fine motor, social-emotional, and cognitive skills all while your preschoolers are deeply engaged in play.