Although preschoolers learn best through play, it is still the preschool teacher's job to provide engaging play experiences that will support the growth of each child's development. Planning your preschool lessons is essential to being intentional with your teaching practices. Here is how to prepare your preschool lesson plans.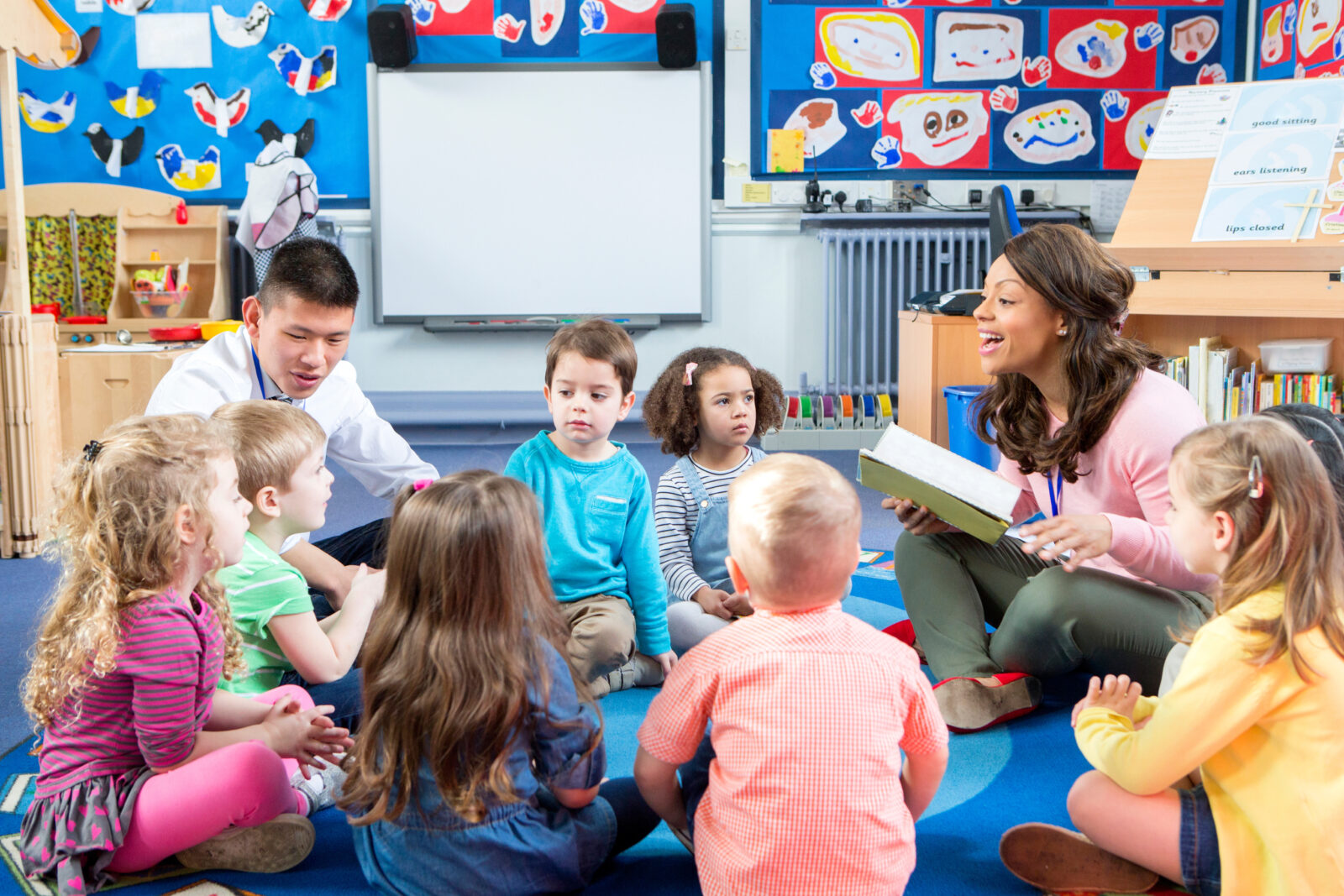 1. LET YOUR PRESCHOOLERS' INTERESTS GUIDE YOU
Your preschoolers are always more likely to be engaged in an activity or lesson if they find it interesting. Which means that they will take a lot more away from it, too. If your preschoolers are suddenly really into dinosaurs, whether it is summer time or the middle of winter you can start a theme on dinosaurs. When you have a theme to build your lessons around it is easy to come up with fun invitations to play that will also support your preschoolers developmental goals.
Collaborate with your preschoolers during circle time each week. Discuss the activities of that week and what they would like to learn about next. You may be surprised at all the wonderful ideas that they come up with.
2. MAKE YOUR LESSONS FIT YOUR PRESCHOOLERS' GOALS
Every preschooler in your classroom should have goals that they are actively working on. Of course, they don't know that they are working on them, but you do! Use your daily observations to assess which areas each of your preschoolers needs to work on the most.
When you are creating your lesson plans, each lesson should focus on at least a couple of your preschoolers' goals. All of your preschoolers need to be included in at least one or two of your weekly lesson plans, too. This way you ensure that all of your preschoolers are working towards their developmental goals each week.
3. TEACH ACROSS DEVELOPMENTAL DOMAINS IN EACH LESSON
There is no reason for a lesson to teach to just one developmental domain. The more diverse your lessons are in this way, the easier it will be to reach of your preschoolers' goals. For example, if you are planning out a dinosaur theme you can reach most of the developmental domains with a dinosaur excavation activity. Preschoolers will work together (social and emotional development) as they use tools to dig the dinosaur fossils out of the dirt (physical development) and talk about what they have found (cognitive and language development).
When your lessons focus on fostering skills in multiple developmental domains you are able to ensure that more of your preschoolers' goals are being worked on. This will also make capturing meaningful observations of your preschoolers working towards their goals easier, and no one will be left out.
4. MAKE ACTIVITIES EASILY ADAPTABLE TO DIFFERENT SKILL LEVELS
Preschoolers follow the same path of development, but they are all on their own timeline. This is why it is important to ensure that all of your preschoolers can participate in each activity, regardless of their level of development in a given area. Providing child-led open-ended activities will make this a much easier task.
Provide your preschoolers with a cutting bin full of different types of paper. Preschoolers who need the most work on their scissor skills can practice holding the scissors correctly and making small snips in the paper. At the same time, preschoolers who are not yet ready for scissors can build their fine motor muscles by ripping the paper in the cutting bin. Your most advanced preschoolers can cut more difficult lines like zig zags and curves, and eventually shapes.
5. KEEP IT SIMPLE
Keep your lesson plans simple. Simple planning and little to no prep activities will meet the needs of your preschoolers and will save you time, too. When writing out your lesson plans include the name of the activity, a brief description of what your preschoolers will be doing, and what developmental domains it supports. You can also include a list of what materials are needed for the activity and any special notes about how you want to set it up.
Preparing your lesson plans each week should not take too much time. If they do, you may want to look at why that may be. Lessons should be child-led, open-ended, and simple and easy to implement.