If you'd like to build your preschooler's gross motor skills, make sure that you don't forget about helping them play outside.
WHY PRESCHOOLERS SHOULD PLAY OUTSIDE
Playing outside is extremely important for children in order to gain an appreciation for nature, and soak in some much needed sun light. When your preschooler is running and playing outdoors, they are building important gross motor skills. Gross motor skills are important for building the large muscles in your preschooler's arms, back, and legs. Being outdoors provides your preschooler with an expanded environment to learn and play in, which helps them learn more about the world around them and build their imagination.
For more information on the importance of your preschooler p[laying outside click here.
5 ACTIVITIES TO HELP PRESCHOOLERS PLAY OUTSIDE
Click any image below to see detailed instructions on how to do the activity.
"Color Golf" by School Time Snippets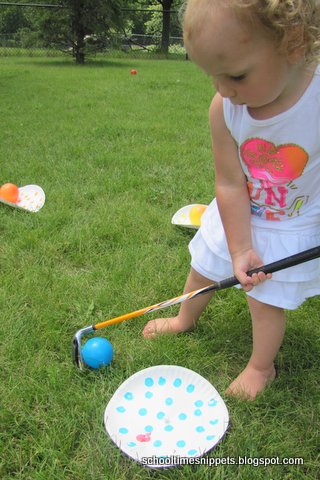 "Obstacle Course" by Learn Play Imagine
"Water Slide" by Mama Papa Bubba
"Treasure Hunt" by Nurture Store
"Press Here Game by Home Grown Friends