1. SET UP YOUR ONLINE PRESCHOOL CLASSROOM WALL
Unlike a local preschool where you need (at the minimum) your living room and kitchen to teach preschoolers, with an online preschool you only need one wall to decorate! The purpose of this wall is that it will be your backdrop behind you as you teach. So the more colorful and exciting it is, the more likely preschoolers will be engaged and parents will be thrilled with their experience. As you're deciding which wall to use in your home and where to set up shop, remember these important concepts.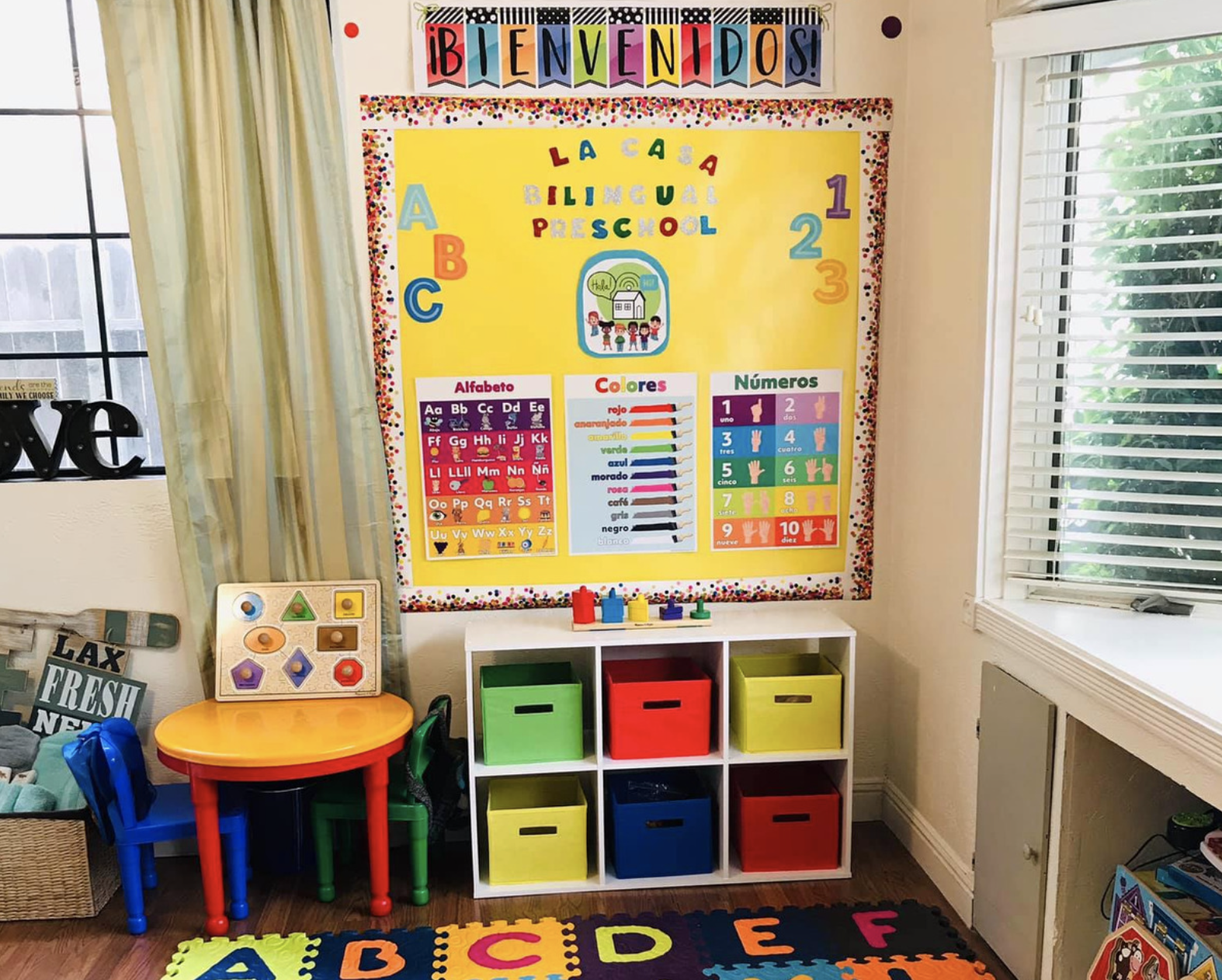 First, you need the place to be relatively quiet and free of distraction, as you'll be recording your Teaching Time lessons and teaching your Preschool Pals classes in that area. You'll even want to test out different areas in your home. The best place will be one that can be your designated area and won't have to be "cleaned" just for you to record. You should be able to set down your laptop, stand in front of your wall, and start teaching right away!
Second, you'll need a little bit of space in front of the wall for you to jump and move around (as teachers do!) plus enough space to set up your laptop.
Third, make sure it has adequate lighting and that the lighting is behind your laptop so it lights up your face. (For the best experience for your preschool families, you will want to invest in some good lighting and a webcam; stay tuned at the end of this section for our suggestions for equipment.)
Now what if you've looked all around your house and you can't find a blank wall anywhere in sight that will work? In that case, you can build a portable "faux wall." Go to Home Depot and buy a large piece of plywood (6' x 6' should do the trick). Then paint it a bright color and decorate it as shown below. You can either store it out of the way and then carry it where you need it, or even attach it to PVC pipe and rollers to easily roll it into place. Alternatively, you can purchase a photo backdrop stand and a cute backdrop and then have that behind you. Lastly, you can simply put all your materials onto a large bulletin board or dry-erase board (or even a tri-fold poster board used often for science projects) so you can move it out of the way when not in use. The possibilities are endless! Now let's look at several examples of what you should put on your online preschool wall.
A huge thank you to our online preschool owners for showing us what their online preschool walls look like! And remember: there is no right or wrong way!
To make your wall, you can go to Dollar Tree (or Amazon or Target or Lakeshore or any other store that sells teaching supplies) and pick up the following items for under $10 or even make your own. Then arrange them in a cute way on your wall and frame them all with the decorative border.
Decorative border to "frame in" all the items
Alphabet poster
Number poster
Colors and shapes poster
Color flash cards
Number flash cards
Alphabet flash cards
Shapes flash cards
Hand pointer (point to items as you teach)
There's several cute preschool wall decor items on Amazon. You can see them by clicking here and also by clicking here.
If you would like to make a portable preschool wall using a photo backdrop, then click on the items below to buy them at Amazon.
Click on any image below and choose one of these school photo backdrops:
2. SET UP YOUR TECH, CAMERA, AND EQUIPMENT
To teach online preschool, you will need a computer and internet access. I will show you 3 levels of equipment lists depending on your desired result. Pick which list you want to use and buy any items you don't have, checking off the items as you get them. (If you click the items below and it will take you to the recommended item on Amazon.)
Before we dive into the lists, I did want to note that we have enjoyed using this cart to hold their laptop while we teach because it can swivel easily for different views.
LEVEL 1: BEGINNER EQUIPMENT LIST
You are just testing this out and aren't sure if it's something you want to stick with yet.
1 LAPTOP WITH WEBCAM
-OR- COMPUTER WITH WEBCAM
LEVEL 2: INTERMEDIATE EQUIPMENT LIST
You are going to be teaching online preschool and want to ensure you have it set up correctly.
LEVEL 3: EXPERT EQUIPMENT LIST
You want to go "all in" on your online preschool and be the best in the industry with your pre-recorded Teaching Time videos. (Your Preschool Pals videos will still use your webcam via Zoom.)
3. SET UP YOUR FREE ZOOM ACCOUNT
You'll need an online "classroom" and you can accomplish that by using either Zoom or Google Meet (we recommend Zoom). You'll want to note the following things for Zoom:
Be sure to require a password and waiting room (to prevent unwanted guests from showing up).
You can manually add each child into the classroom when it's time for Preschool Pals.
It's also great to ask parents to rename the Zoom account to their child's name during the session so you know who is who in the waiting room so you can let them in.
The same link works for EVERY week if you set it to recurring; you don't need a new link each week.
There's no need to delete the Zoom meeting even if all students withdraw

Nobody can join the room unless you start it
You should build out all your possible preschool classes before you have students so they'll be available when you need them
Also note the following Zoom settings:
Participants (click this so you can then mute mics or turn off videos)
Chat (type so others can see it)
Share Screen (share your screen)
Record (to the cloud or computer)
Breakout Rooms

You can move all your students into small breakout rooms so they can chat, join each breakout room as you like, do 1-on-1 assessments or small group teaching, etc.
NOTE: If you don't see it available, then go to your Zoom dashboard, click "Settings," scroll down to "Breakout Rooms," then make sure it's toggled ON (blue). If not, toggle it on so it's blue.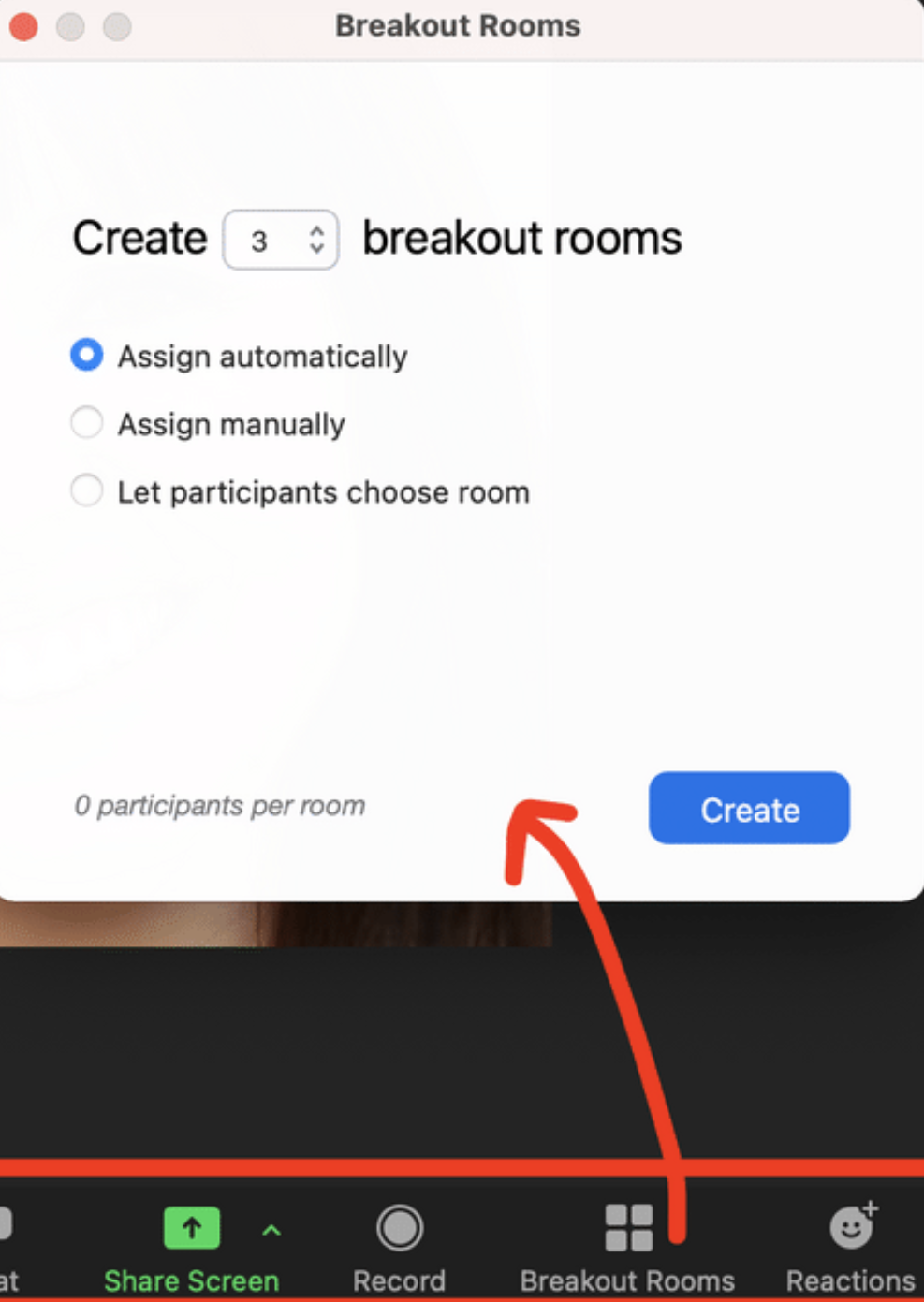 Reactions (emojis + they can raise hand)
"MORE" button on the bottom right-hand side of screen: You can MUTE ALL and not allow them to unmute! (You can toggle on/off during class, yay!)