Playing outside is one of the best parts of preschool. The children get to practice their gross motor skills, play games that they create themselves, and get some fresh air. Your preschoolers learn a lot about the world around them when they are outside in nature, too. What you do during your preschool outdoor time should be engaging and support your preschoolers growth across all of the developmental domains.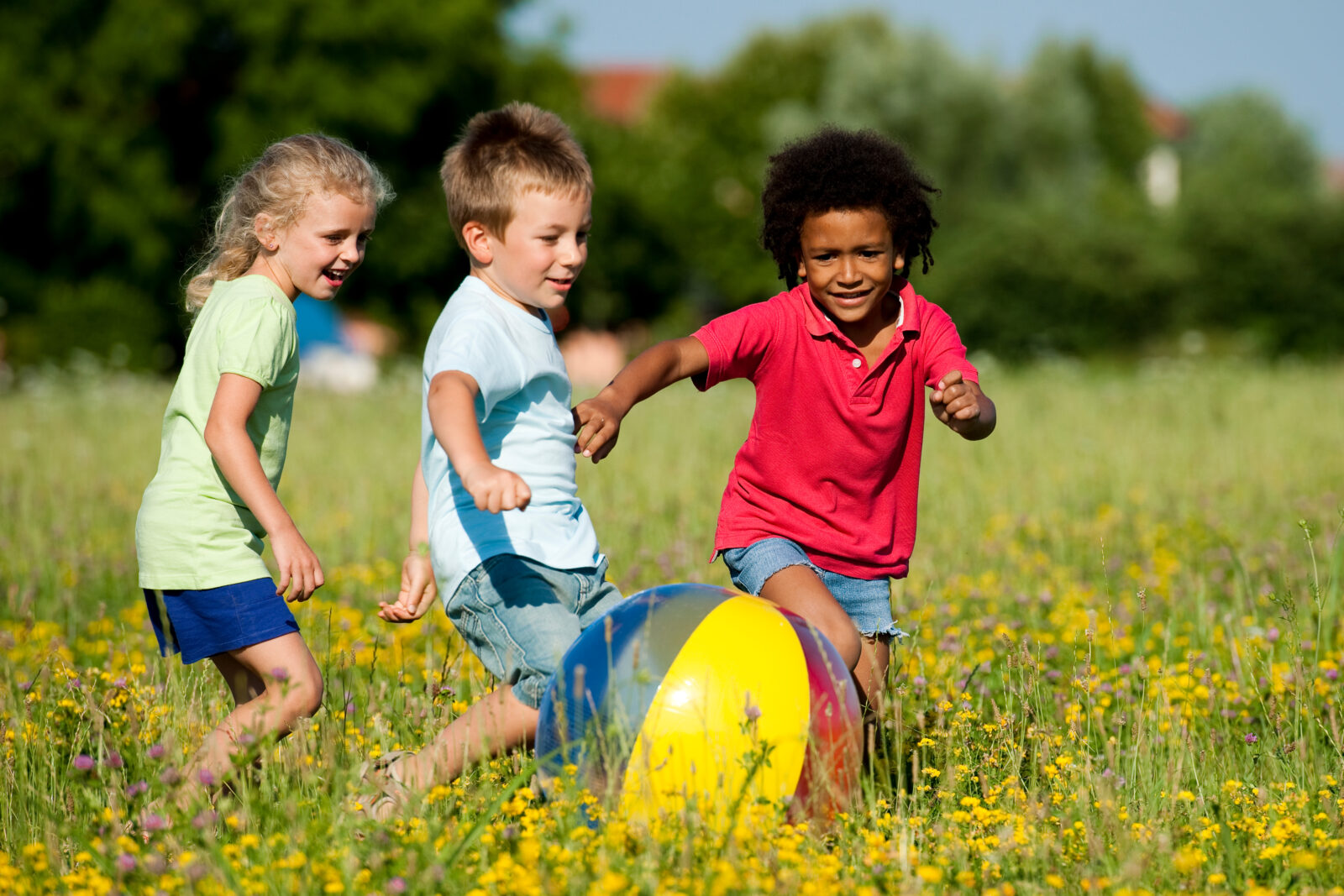 PLAY ORGANIZED GAMES WITH YOUR PRESCHOOLERS
Setting up organized games for your preschoolers to play outside is a great way to target specific gross motor skills work. Keep it simple though, or you may lose their interest. Fill a laundry basket with small balls and dump them all out! Your preschoolers will think that is hilarious. Then, have them throw the balls in. Do it with them, at least for a few throws, to model proper throwing form. If it seems too easy, challenge your preschoolers to throw from further away.
EXPLORE NATURE WITH YOUR PRESCHOOLERS
Young children learn so much about the world around them through nature. Preschoolers can learn about weather, insects, birds, and so much more as they explore. That learning can be extended even further when it is facilitated by a knowledgeable adult. When they find a bug, observe it together and point out what you notice. Ask them questions that will get them thinking and build on their observation skills, too.
Lead your preschoolers in nature scavenger hunts. This can be done any time throughout the year. It is especially fun, and educational, as the seasons are changing. Provide them with a visual list of things to find as they explore outside, and they can check them off as they find each one. In winter, you could include things such as snow, ice, a sled, a shovel, and foot prints.
CREATE ART WITH YOUR PRESCHOOLERS
The outdoors provides a lot of inspiration for creating art. Your preschoolers can use pieces of nature, such as flowers or pine needles, to paint with. They can even paint rocks. Outdoor time is also great for more elaborate and messy art that you wouldn't want to do inside your classroom. Use your playground equipment to enhance your preschoolers' art experiences.
For example, you could line the slide with paper and let your preschoolers roll different textured balls through paint and down the slide! You could also lay large pieces of cardboard underneath the swings and let your preschoolers lay on their bellies on the swings and use a paint brush to paint the cardboard as they swing back and forth. If you don't have an outdoor art easel, vinyl fencing makes a great art easel, and you don't even need paper! Just let your preschoolers paint directly on the fence with washable paint.
OBSERVE YOUR PRESCHOOLERS
Outdoor time is also a great time for your preschoolers to participate in unstructured play, which makes it a great time for observations. Watch how your preschoolers interact with each other, how they interact with nature, and how they manage taking risks.
Your preschool outdoor time is a great opportunity to build stronger relationships with your preschoolers and get them engaged in skills work, all while having a lot of fun! To get the most out of your preschool outdoor time, be sure to get your preschoolers moving and be engaged with them.