Starting a preschool classroom can be a very rewarding endeavor, and this is the complete list of materials and supplies needed in a preschool classroom! Surly you have many questions but one at the top of the list is probably: What materials do I need to get started? You may be surprised to know that you may have a lot of items already in your home especially if you have your own children.
Just getting started with your preschool doesn't have to be costly. Using items that you already have around your home will do just fine. As you grow your preschool you will be able to invest in your classroom to add more items. Don't be afraid to ask friends and family if they have any supplies they would be willing to donate. Make a wish list to share with people.
Your local dollar store can also have great deals that don't break the bank. As you can see materials and supplies to use in your preschool classroom don't have to be brand new and fancy, using what is readily available is a great way to get started!
Some of our preschool owners think they have to have fancy-looking preschool rooms to get started. You don't! During our first year of preschool, we started with 4 posters on the wall from Dollar Tree (letters, numbers, colors, and shapes), a long church buffet table, and two picnic benches that we covered with padding and cute fabric. It cost us $20. It didn't look impressive, but honestly, most of the preschool parents chose our preschool because of our warm personality and great curriculum, not our improvised preschool table. So, if we can fill up our preschool with that setup, then surely you can be successful even if you're on a tight budget too!
We'll try to list the most essential things you'll need, and then offer some suggestions for fun additions to your preschool if you have room and can afford them. Each year, plan on using some (or all) of your registration fees to reinvest in new curriculum materials and furniture. Reinvesting in your business is always a great investment!
#1. PRESCHOOL FURNITURE
Preschool Furniture: What You Need
To get started in a preschool classroom the only furniture you really need is a table and chairs. It can be a kitchen table or whatever you have that the kids could do arts and crafts on or eat snack at. Using a living room floor is great for reading time, group time and doing center time. You will also need access to a bathroom so students can use it and have a place to wash their hands.
If you're on a bare-bones budget, you could use your money for curriculum materials and just use your kitchen table and the living room floor for your preschool areas. (We've done that too!) Granted, it's preferable to use child-sized furniture, so you'll definitely want to invest in those as soon as you're able to.
You don't even need a separate preschool room to hold preschool. You can use your living room (couches/floor space) to hold a variety of activities like circle time, story time, rhythms & movement, and free play/center time. You can also use your kitchen table for snack time, center time, and arts and crafts. Of course, if you have a separate preschool room, you could get a child-sized long table (or two smaller tables) and child-size chairs for that room so you can have your arts and crafts and table activities in there.
If you have more money in your budget and a separate preschool space, you can really go to town with your classroom! Once we converted our garage into a preschool room, we were super excited to make it into the best preschool room we could. Always remember, though, to start first with quality in your curriculum and teaching program, then you can continue reinvesting every year into better curriculum materials.
In case you want a complete list of preschool classroom furniture you could buy (not saying you should!) here you go:
Circle time rug
Art/snack tables
Art/snack table chairs
Library book display
Couch
Beanbag
Floor pillows
Sensory table
Soft rugs
Drying rack
Light table
Cabinets or low bookshelves
Audio/visual center
Kitchen
Doll crib
Dollhouse
Computer table
Cubbies
Loft
Easel
Sand/water table
Preschool Furniture: Where to Shop
You can really make your preschool as simple or elaborate as you like. There are certainly enough high-priced items from Pottery Barn or expensive wall decorations that shout, "This room is adorable!" But in reality, we've gotten our best finds by looking for quality used furniture. After all, we don't see the point in buying brand new tables when they're going to be painted, glued, and colored on!
Our favorite place to shop online is Facebook Marketplace. You may have access to other local online shopping options as well (our favorite are thrift stores!) In our second year, we were fortunate enough to come across our child-size school tables and chairs when a private school was closing down. We also found our huge alphabet rug from someone who had purchased it from Pottery Barn a year earlier and no longer wanted it.
If you're going to invest right away into high-quality furniture, we recommend Discount School Supply. When we got our schoolhouse and had to set up new classrooms, we went straight to Discount School Supply where we bought several of: this rug and these tables and these chairs!
#2. PRESCHOOL ROOM DECORATIONS
Preschool Room Decorations: What You Need
You only need a couple of colorful posters maybe of the alphabet, colors and numbers to make the space feel kid friendly. They can be removable so if you are having classes in your home it can be returned back to your home and not look like a preschool.
If you're holding preschool in your living room, you can buy some foam boards and decorate them with your circle time visuals (calendar, weather, job chart, etc.) and your students' artwork. Bring them out during preschool time and set them against the wall, then store them out of sight afterward (a great place for these is under the couch!)
Here's a complete list of preschool classroom decorations:
Alphabet poster
Number poster
Colors poster
Shapes poster
Number line 0-20
"Who's here?" chart with names
Weather chart
Happy birthday chart
Months of the year chart
Emotions chart
Map of the world
Calendar
Bulletin board borders
Name tags for cubbies
Cut-outs
Preschool Room Decorations: Where to Shop
Dollar Tree stores also have a huge teacher section of wall posters, letter borders, removable wall stickers, and lots more! If you have a separate preschool room, we'd suggest you deck it out with all their amazing wall posters and bright letter borders.
#3. ARTS & CRAFTS AND WRITING SUPPLIES
Arts & Crafts and Writing Supplies: What You Need
If you are like me you have an endless supply of paper, crayons, markers, pens and pencils maybe even glue sticks! You can use those to get your art and writing centers started. You may want to invest in a couple of rolling carts to hold these supplies so they can easily be put to the side when not in use.
If you have things like buttons, pipe cleaners, paint, chalk, stickers and stencils you can add them as well. Using things such as toilet paper rolls encourages recycling and sparks creativity. If you are running low on paper or envelopes ask local businesses if they have anything that they are disposing of. They would likely rather donate it to a preschool than throw it away.
As for arts and crafts supplies that you should always keep on hand, plan on buying: markers, crayons, scissors (for each child), glue, glue sticks, construction paper, white paper, paint, and paintbrushes.
Additional materials you may want to purchase or acquire (or even ask parents to donate) include for your preschool classroom include:
glitter
glitter glue
popsicle sticks
perler beads
play dough
maracas
recorders
cardstock paper
finger paints
chalk
chalkboard
stickers
fasteners
pipe cleaners
paper plates
plastic cups
plastic cutlery
butcher paper
plaster of Paris
poster boards
hole punch
hot glue gun
dry erase markers
dry erase boards
tape
stapler
clear contact paper
wiggly eyes
cotton balls
cookie cutters
Q-tips
tissue paper
Kleenex
cardboard tubes
catalogs
newspaper
drinking straws
plastic soda bottles and caps
paper bags
cereal boxes
old cookie sheets
sand paper
old socks
milk cartons
shoe boxes/lids
wrapping paper
wallpaper
yarn
ribbon
string
sponges
fabric
aluminum foil
corks
file folders
pasta
felt
computer paper
baby food jars
Arts & Crafts and Writing Supplies: Where to Shop
To save the most money on your supplies, check out Dollar Tree first. If you don't have one close by, then try other dollar stores and see if you can get as many things on your list as possible. We're usually fine with buying the cheaper brands in most everything, but when it comes to paint, crayons, and markers, we recommend Crayola because they will last much longer than the cheaper brands. For all other materials, try Oriental Trading, Wal-Mart, or Target.
#4. PRESCHOOL BLOCKS AND PUZZLES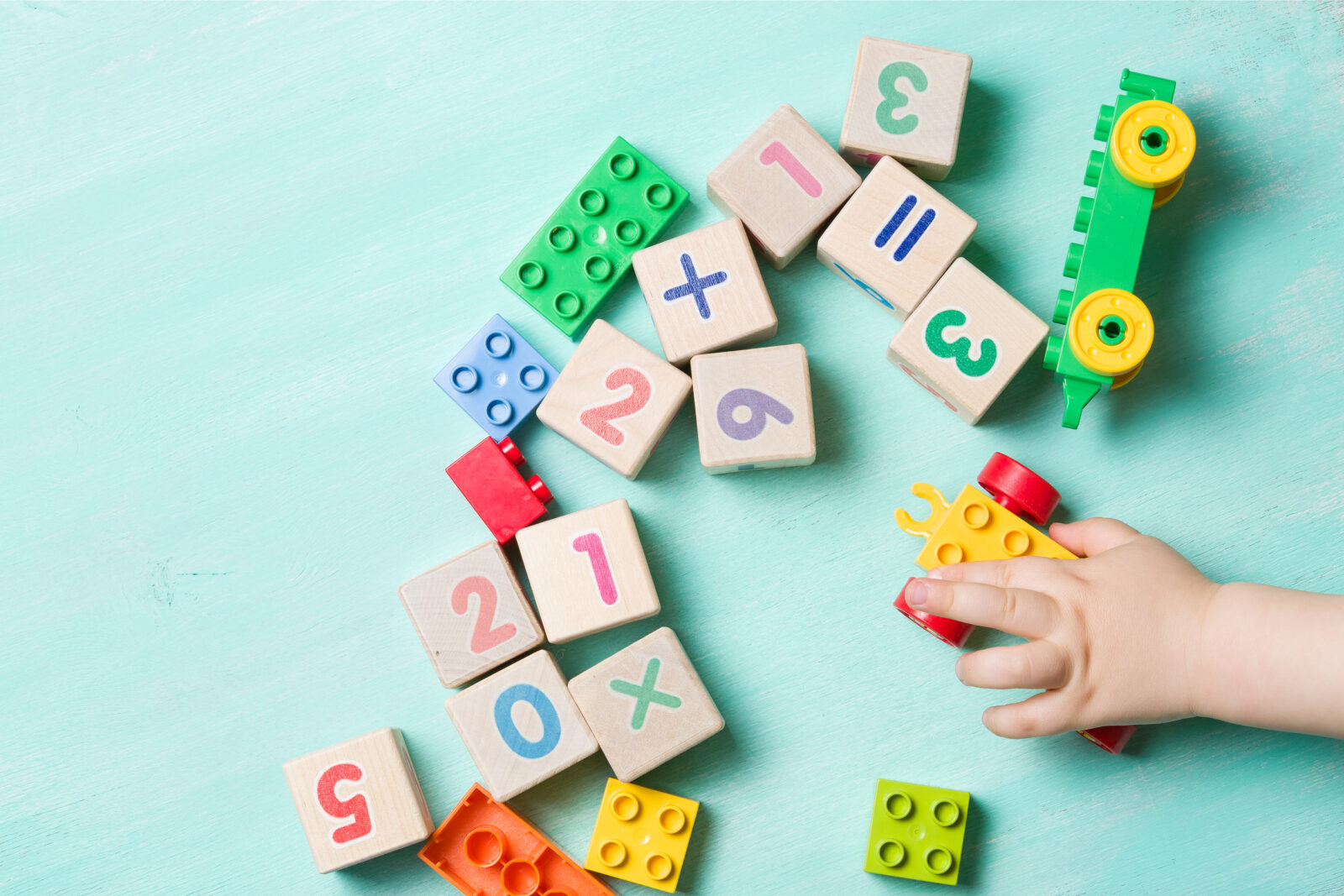 Preschool Puzzles, Games, and Manipulatives: What You Need
Another great activity for preschoolers is building with blocks or other items that allow them to problem solve and be creative. Blocks can be the traditional Legos or wooden blocks but you can also make blocks out of milk or juice cartons. I have also used solo cups for kids to build towers with. If you already have puzzles you can use them if not you can make them out of cardboard. Cereal boxes can even be cut into puzzles.
PUZZLES AND GAMES:
Puzzles
Board games
Card games
Four In a Row
Guess Who?
HiHo CherryO
Candy Land
Operation
UNO
Trouble
Chutes and Ladders
Jenga
MANIPULATIVES:
Lacing cards
Lacing beads
Buttons
Links
Magnets
Mosaic squares
Pegboards
Erasers
Pom poms
Coins
Beads
Preschool Puzzles, Games, and Manipulatives: Where to Shop
Our favorite place to buy puzzles and games is at Wal-Mart, as sometimes thrift store puzzles and games will have missing pieces. We also love to buy manipulatives from Dollar Tree, Oriental Trading, and Discount School Supply.
#5. PRESCHOOL BLOCKS & BUILDING MATERIALS
Preschool Blocks & Building Materials: What You Need
Here's a list of all the items you can use to help your preschoolers' fine motor skills with building:
BUILDING MATERIALS:
Thistle blocks
Cubes
Magna-Tiles
Wooden blocks
Pipe tubes
Pop tubes
Linking discs
Legos or bricks
Marble race
Lincoln Logs
Jenga
ADDITIONAL MATERIALS:
Cars
People
City rug
Animals
Fabric squares
Loose parts
Trains
Train tracks
Rocks
Shells
Preschool Blocks & Building Materials: Where to Shop
You guessed it… our favorite place to buy blocks and building materials is at thrift shops! You can find some amazing toys, and even if some pieces are missing, that's okay! Don't forget to buy big storage materials for these items though… otherwise your trains will get mixed into your blocks and that's never fun! If you want sturdy wooden block people, I recommend buying this set from Discount School Supply.
#6. PRESCHOOL BOOKS
Preschool Books: What You Need
Using preschool appropriate books that are already in your home is perfectly fine. You can also go to your local library and check out books for the kids. Some libraries also have programs that they will loan preschools a group of books on a certain theme for a week or maybe even longer.
Here are a few types of books you'll want to add to your book list when you go to the library:
Board Books
Picture Books
Folklore Books
Fairy Tale Books
Interactive Books
Rhyming Books
Poetry Books
Alphabet Books
Counting Books
Colors and Shapes Books
Non-Fiction Books
Preschool Books: Where to Shop
Our favorite places to buy books include Dollar Tree, thrift stores, Usborne Books and More, and Scholastic. And of course, don't forget you can check out free books at the library!
#7. PRESCHOOL CENTER MATERIALS
Preschool Center Materials: What You Need
We could write for days on all the different curriculum materials you should look for. But we'll add a quick list below of our favorite centers to add to your classroom. For clarification, centers are purpose-driven places for your students to play while they're at your preschool.
We know many of our preschool owners don't have classrooms, so consider how you can store these items while class isn't in session. And of course, you don't have to have all of the centers listed; just do what works with your space and your students' needs. One of our preschool owners' husbands even built her inexpensive reading benches that had storage inside of them for her materials.
Reading Center
Writing Center
Dramatic Play Center
Building Center
Art and Crafts Center
Sensory Center
Science Center
Math Center
In the reading center, for example, you might add child-sized couches or beanbags, pillows, library books, and magnetic doodle boards.
If you want to provide sensory play for your preschoolers you can use a plastic tub and things like water, sand, noodles, rice, oatmeal or even snow. Put the tub on a washable surface just in case there are spills. You can even put it on the floor with a towel or waterproof table cloth.
Having a dramatic play area is a great way for preschoolers to play out their daily lives, learn about new careers or just pretend and use their imagination. You can supply dress up clothes that you have at home. Purses, old necklaces, hats, dress shoes make great dramatic play props. If your kids have a kitchen and a few dishes you can use that too.
To create a science space you can bring things in from outside such as leaves, flowers or grass. Kids love to explore and see how things work, look and feel. You can use rocks, shells or magnets. If you have a magnifying glass add that. You can keep your science items in a cart or tub so you can easily store it and keep it organized.
To get good ideas of what you might enjoy having in your classroom, I suggest you visit my friend Jackie Kops' Pocket of Preschool website for a complete list of centers and materials needed.
Preschool Center Materials: Where to Shop
If you have young children, you probably already have an abundance of items that would work. My suggestion is to set aside some of your children's open-ended toys for strictly preschool use.
If you need to add to your collection or simply don't have any materials to start with, look on Facebook Marketplace, teacher pages (or second-hand donation stores like Savers and Goodwill) for curriculum materials and center-based play items. You'll be shocked with how many curriculum materials you can find there!
And if you have money to spend, we highly recommend Lakeshore and Discount School Supply.
#8. PRESCHOOL TEACHER SUPPLIES
Preschool Teacher Supplies: What You Need
Some materials you'll want to have on hand as a preschool teacher include:
planner
dry-erase board
chalkboard
bulletin board
cork board
flannel board
stickers
big scissors
Preschool Teacher Supplies: Where to Shop
Dollar Tree stores also have a huge teacher section of stickers, postcards, certificates, educational games, preschool activity books, and lots more! Target is also a great place to find teacher supplies!
#9. PRESCHOOL CLASSROOM STORAGE
For even more great ideas, please check out this article on Storage and Organization for Your Preschool Classroom.
Preschool Classroom Storage: What You Need
"A place for everything, and everything in its place" is a common phrase, and one that is vital for your preschool classroom's success. If there is so much that children don't even know where it goes, they can't clean it back up quickly or easily. So organize everything in the classroom, reduce the amount of materials available to them, and store the rest in containers.
Preschool Classroom Storage: Where to Shop
When you're finished shopping for all the supplies and materials needed for your preschool classroom, then buy storage containers to nicely store all the materials you purchased. You'll also have lots of teacher supplies, so plan a way to store them close at hand.
Dollar Tree has several inexpensive smaller containers, and Wal-Mart has under the bed storage containers. Don't forget that wall space is your new best friend, so stock up on wall shelves from Wal-Mart as well.
We hope this article about materials and supplies needed in a preschool classroom was helpful!