DEFINITION OF FINE MOTOR SKILLS
This picture is a classic example of a preschooler using their fine motor skills to accomplish a task. Consider the level of strength and dexterity that is required in your hands to pull Legos apart or to push them together! It's quite a feat… and the stronger your hand muscles are, the better you'll be able to have strong fine motor skills.
5-YEAR-OLD FINE MOTOR SKILLS MILESTONES
Writing a few letters/numbers or first name
Can copy a triangle shape
Can draw or copy a variety of objects
Can build structures with blocks or Legos
Can manipulate a shoe lace through a lacing card
Can string small beads through a pipe cleaner or string
FINE MOTOR SKILLS ACTIVITIES
You can provide activities to strengthen and refine fine motor skills at home or in a classroom setting. 5-year-olds may be approaching their first year of school. If they can write their name by the time they enter Kindergarten, it will be beneficial. However, some 5-year-olds need more time and the skill may not happen until age 6.
By refining a 5-year-old's fine motor skills, it will make learning how to write easier and more enjoyable. Don't forget the importance and value of coloring or playing with Play Dough. 5-year-olds still need sensory experiences such as water and sand play. Another great activity is to play with slime or clay, which is harder to manipulate than Play Dough. Also, playing with Legos is also a great activity for a 5-year-old, but be careful if you have smaller children around, as smaller Legos can be a choking hazard.
DEFINITION OF GROSS MOTOR SKILLS
Have you seen a kindergarten recess area? It's the perfect place to build your gross motor skills! All of the activities build a child's large muscles in their body, including their arms, legs, and trunk. The playground is full of movement and activities, including children walking on a path, swinging on swings, going down slides, crossing monkey bars, bouncing balls, shooting hoops, kicking balls, jumping rope, playing hula hoop, and more! Gross motor skills are the skills you're able to do when you build your larger muscles in your body.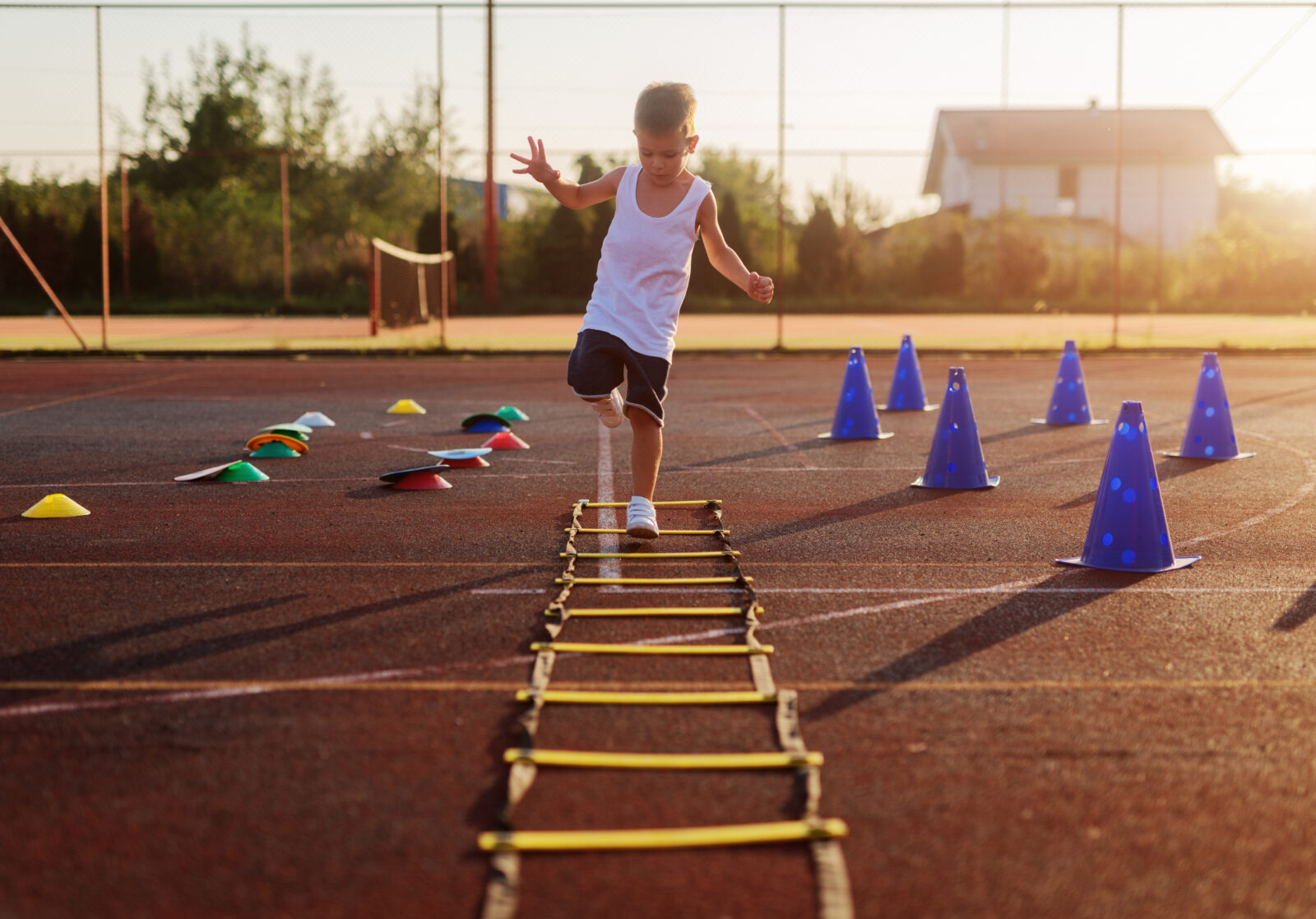 5-YEAR-OLD GROSS MOTOR SKILLS MILESTONES
Riding a bike with or even without training wheels
Climbing
Can swim in a pool, still may need assistance and always should have adult supervision
Can use a jump rope
Can skip and alternate feet
GROSS MOTOR SKILLS ACTIVITIES
It is truly amazing to see how much development has occurred in just 5 years! 5-year-olds' confidence is typically pretty high at this age and their physical competence can soar with the right motivation. Risk taking is also common such as wanting to climb trees, jumping from high distances, and testing what their body can do physically.
According to the American Heart Association, children at this age all the way to age seventeen should be involved in at least 60 minutes of daily physical activity.